Image

Barnard: Bold, Strong, Together
Phases the return of students, staff, and faculty to campus with their health and safety as our main priority.
Pioneers a new first-year course and campus lecture series, "Big Problems: Making Sense of 2020," that focuses on the historic challenges now confronting society, including the COVID-19 pandemic and our social, economic, political, and ecological upheavals.
Adds many courses across the curriculum that focus on the current moment, asking students to use different disciplinary lenses to interrogate and learn from this time in history.
Puts to work Barnard's rigorous education for the social good, through the virtual co-curricular program ThirdSpace@.
Gives students the calendar flexibility, and, ultimately, the living options to do their best work.
Principles
Barnard: Bold, Strong, Together is based on the following principles:
Safe. The College will ensure that all members of the community who return to campus are as safe as possible, with proper testing and health evaluation, as well as contingency plans, such as quarantine spaces.
Equitable. The College will work closely with all members of our community who require accommodations to return in-person or virtually.
Meaningful. Students will experience the best of Barnard through new academic programs, engaging student activities, and strong sense of community.
Flexible. Programs and operations will respond nimbly to changing conditions.
Robust. The return to campus will seek to reasonably return as many students as possible to campus, within the constraints posed by the other principles.
Feasible. All steps of the return to campus plan will align with Columbia's efforts where applicable and conform to regulatory requirements.
Plan Highlights
Innovation in Curriculum
Innovative and flexible course offerings that introduce:
Opportunities across the curriculum for students to interrogate and learn from this time in history through different disciplinary lenses.
The opportunity to take courses during a new Summer term. Students who have been enrolled full-time both semesters will see no added tuition fees.
Newly developed seven-week immersive courses, which research shows is more effective in a remote learning environment.
"Big Problems: Making Sense of 2020," a brand-new First-Year Experience course and lecture series that expands on Barnard's educational mission of intellectual risk-taking and discovery. The course addresses the "big problems" we face in 2020 and beyond, bringing in prominent thought leaders who will contextualize the current moment and push students to think critically how COVID-19 generated social, economic, political, and ecological upheavals.
› Visit Academics & Classrooms for detailed information.
Flexible Calendar
A two-session Summer semester follows the traditional Fall and Spring semesters to allow for more flexibility and expanded course offerings.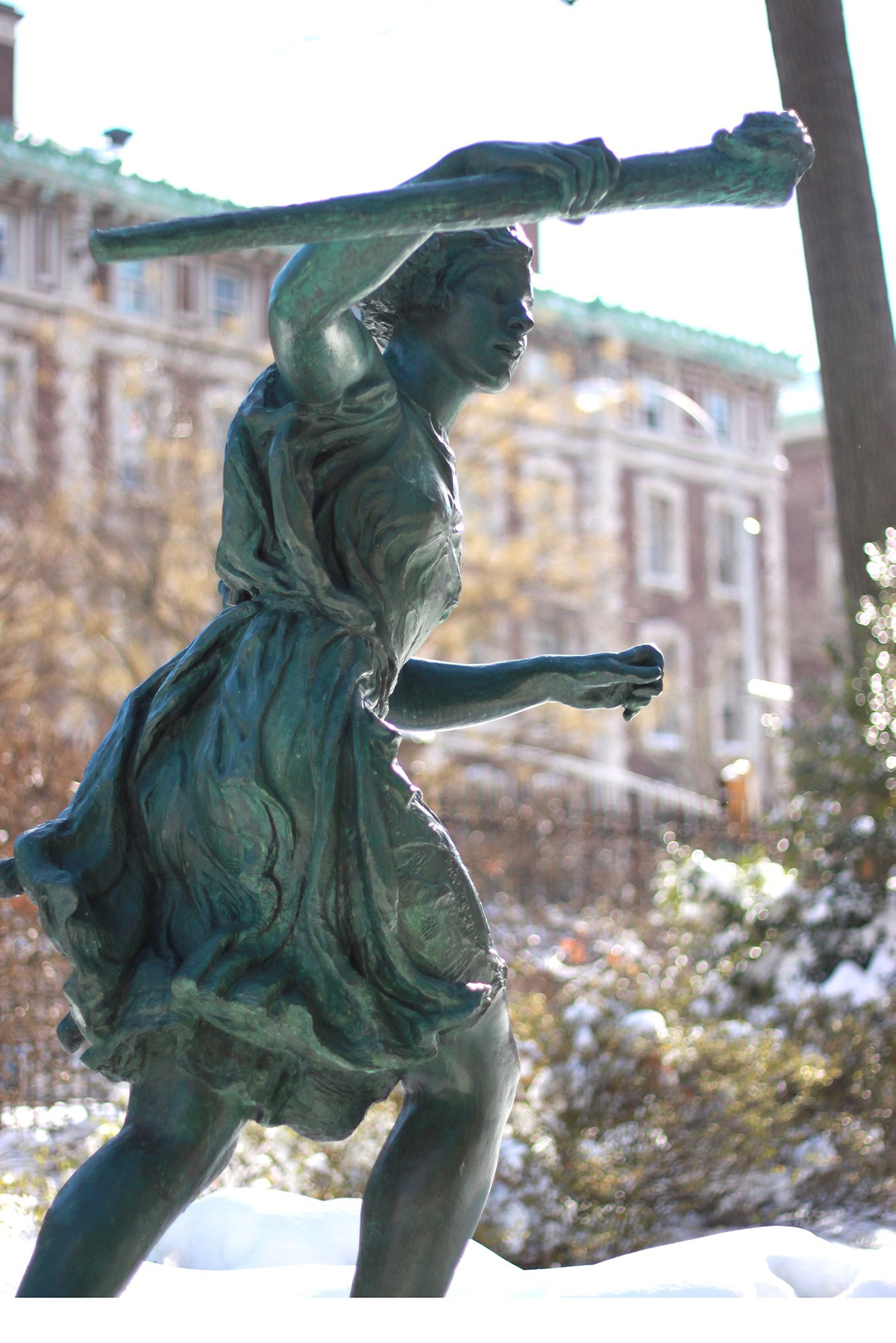 The 2020-21 Academic Calendar offers three semesters and aligns, as always, with the Columbia calendar. Students can take classes over Fall, Spring, and Summer semesters.  
Any student who wishes to continue to study remotely after campus opens is welcome to do so.
Each semester is divided into two A and B terms, allowing students to choose from immersive and/or semester-long classes.
Students can enroll in a host of immersive seven-week classes, in addition to semester-long classes. These intensive classes will allow students to reduce their class load while participating in a depth of engagement and learning in a shorter time period.
International students studying remotely will have the opportunity to be involved in academics and programming at the Columbia University Global Centers around the world.
› Visit Academics & Classrooms for detailed information.  
› Visit the Registrar's website for detailed information on class registration.
Feel Well, Do Well: Campus and Community Safety Measures
Creating a culture in which everyone at Barnard understands how their individual decisions impact others and acts accordingly is paramount to the health and safety of the whole community. To prioritize health and wellness for the Barnard and Morningside Heights communities, measures center around:
Masks. Face coverings are required in public areas on campus.
Distancing. All are expected to maintain a minimum physical distance of at least 6 feet and be mindful of physical distancing in small spaces, including elevators, hallways, stairwells, and restrooms.
Screening and Testing. The College has implemented a screening, testing, and contact-tracing program for all members of our community.
Community-Oriented Culture. Students, faculty, and staff are expected to acknowledge, and upon their return to campus, adhere to a new community pledge that emphasizes every member of the community must take responsibility in helping to maintain a safe environment.
Hygiene and Cleaning. Community emphasis on washing hands frequently and thoroughly. Upgrades to fixtures, including touch-free devices, frequent cleaning of residence halls, restrooms, and campus spaces, and availability of sanitizing supplies.
› Visit Feel Well, Do Well: Health & Safety for detailed information.
Students on Campus
When we return to campus, planned for Spring 2021, our Residential Living model will emphasize physical distancing, cleanliness, and an understanding of shared responsibility.
Students have been invited to live on campus in different stages.
When in-person instruction resumes, students who reside off campus may come onto campus for their in-person classes and to participate in the on-campus experience.
Fall semester:
Barnard is fully operational in a remote capacity. Instruction and College services are fully remote via Zoom and other web-based technologies.
Spring semester:
Based on the preparations Barnard has undertaken this fall and what other institutions have learned, the College will begin the Spring semester with both in-person and remote learning and reduced capacity on-campus residential living. Nonetheless, we continue to prepare for conditions beyond our control, such as government mandates around health and safety.
Summer semester:
If circumstances allow us to keep the residence halls open:
Students who register for summer courses to apply to live on campus.
Room and board will be charged. Students who are financial aid recipients may be able to receive financial assistance for summer housing.